Mechanical Python Chain Clamp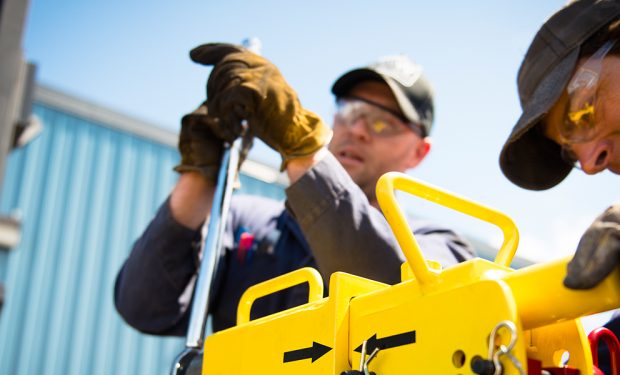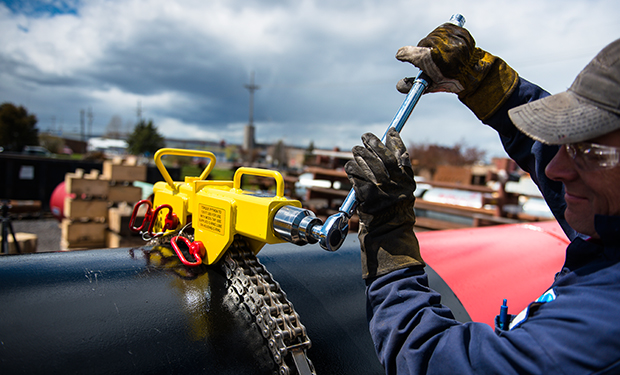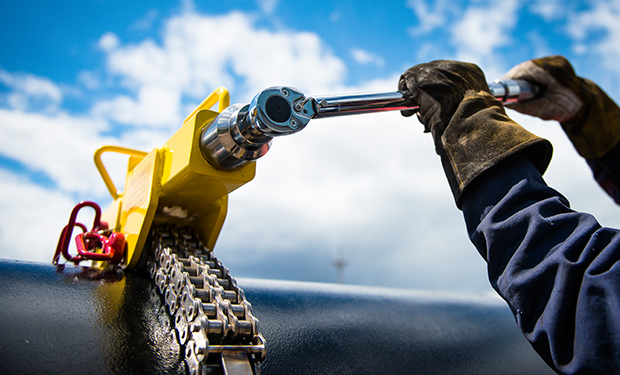 Mechanical Python Chain Clamp
WorldWide Machining & Welding, Inc., has developed a new style of chain clamp that utilizes grade 80 double-roller nickel plated chain to apply equal clamping pressure around the entire circumference of the pipe, sleeve and/or stopple tee, improving alignment and overall fit-up.
Field Application
The Python Chain Clamp is ideally used during the sleeving process to clamp a sleeve or stopple tee fitting in place, achieving proper alignment and a tight overall fit-up, allowing for better weld application.
Features/Specifications
Powder-coated main clamp body.
D-pins for easy assembly.
Internal Acme screw allowing for maximum adjustment.
Powder-coated grabber head machined out of A514 grade B steel (T-1).
Grade 80 double-roller nickel plated chain.
Engineered and FEA-certified to apply 17,778 pounds of nearly 360 degrees of equal clamping pressure to the chain.
Use of the Python Chain Clamp during split tee and sleeving operations is significantly safer and more effective than the old-school jack and chain method commonly used. Use of the Python Chain Clamp eliminates the use of underrated chain and bottle jacks and, in relation, the safety hazard of a snapped chain and injury from jack failure.
The Mechanical Python can also be used in conjunction with the Modu-Tap drilling machine, resulting in direct cost savings.
Models Available
Description
Additional Description
PYTHON MECH CHAIN CLAMP
Main Body – Mechanical with Storage Box
CHAIN DBL ROLLER – 1016
10"-16" Pipe Dia Application
CHAIN DBL ROLLER – 1024
10"-24" Pipe Dia Application
CHAIN DBL ROLLER – 1036
10"-36" Pipe Dia Application
CHAIN DBL ROLLER – 1048
10"-48" Pipe Dia Application
CHAIN DBL ROLLER – 2 FOOT EXTENSION
2 ft Extension with Master Link
Download Spec Sheet (pdf)